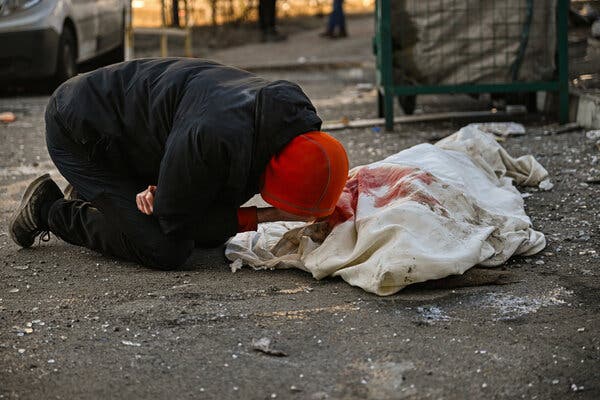 Grieving in Kyiv yesterday.Credit…Lynsey Addario for The New York Times
Thousands of civilian lives lost in Ukraine
A day after a Russian strike reduced to rubble a theater in Mariupol, Ukraine, where hundreds of people had been huddling for shelter, rescuers began pulling out survivors one by one. The southern city, under siege by Russian forces, has been squarely in Moscow's cross hairs since the invasion began three weeks ago. Follow the latest updates.
With as many as a thousand people reported to have taken shelter at the theater and still unaccounted for, fears remained that whatever hope emerged from the rescue scene would eventually be eclipsed by despair. "Our hearts are broken by what Russia is doing to our people, to our Mariupol," said Volodymyr Zelensky, the Ukrainian president.
Ukraine has suffered thousands of civilian casualties from the war. Taking heavy losses on the battlefield, Russian forces have increasingly been aiming bombs and missiles at towns and cities. Unable to capture urban centers, they are leveling them instead, and the toll on civilians is worsening.
Kyiv: Russian forces are stalled outside the capital, where they have taken heavy casualties and — perhaps most surprising — have failed to achieve dominance in the air. Western officials said they were no longer confident that Russia was planning a ground assault on Kyiv, a major objective.
Talks: Cease-fire negotiations between the two sides continued into a fourth day, with uncertain prospects. The U.N. Security Council held an emergency meeting to discuss the worsening humanitarian situation and the status of the more than three million refugees.
Other updates:
Russian and Ukrainian tourists are stranded in a chic Egyptian hotel as one group's home country tears the other apart.

Russia said it had made a $117 million bond payment to prevent a default.

President Biden said that he believed the Russian president, Vladimir Putin, was a "war criminal."
---
Moderna said its request covered all adults.
Credit…
Denise Cathey/The Brownsville Herald, via Associated Press
Moderna seeks authorization for a second booster
The pharmaceutical company Moderna has asked U.S. health officials for emergency authorization of a second booster of its coronavirus vaccine for all adults. It comes after Pfizer and BioNTech sought authorization for a second booster for those 65 and older on Tuesday.
The request is likely to intensify the ongoing scientific debate over how long protection from the two vaccines lasts in the face of new variants. While some scientists believe a second booster will help to bolster protection against infection or mild disease, others say it is unclear whether protection against severe disease is waning and whether such a booster in necessary.
Moderna said its request covered all adults so that officials and providers could determine the appropriate use of a second booster, for groups including those at higher risk of Covid-19 disease. Although there are indications that regulators could move swiftly on Pfizer's request, it is unclear how favorably they will view Moderna's more sweeping application.
Here are the latest updates and maps of the pandemic.
In other developments:
Xi Jinping, China's top leader, urged officials to reduce the effect of the country's aggressive containment efforts on people's livelihoods.

Italy is preparing to roll back many of its vaccine requirements.

Experts warn that another Covid wave may be imminent in the U.S., fueled by BA.2, the more contagious Omicron subvariant that is spreading rapidly in Europe.

Micheal Martin, the Irish prime minister, tested positive for the virus right before St. Patrick's Day.
---
The vehicle that carried María Hernández, Yohannes Halefom and Tedros Gebremariam before they were killed in the Tigray region.
The aid workers executed by Ethiopian soldiers
In June last year, three aid workers for Doctors Without Borders suddenly vanished amid the conflict in northern Ethiopia. Their satellite phone went unanswered, and a tracking device showed their vehicle making a sudden U-turn and then stopping. The next day, their bullet-riddled bodies were found sprawled on a roadside near their burned-out vehicle.
Doctors Without Borders denounced the killings as "brutal murder" but did not identify any culprit. But investigators, aid officials and Ethiopian soldiers interviewed by The Times said the three aid workers had been gunned down by Ethiopian government troops on the orders of a commander who was infuriated to find them in an active combat zone.
Their deaths have underscored the specific perils facing aid workers in Ethiopia, where hunger and dislocation threaten millions even as the government seems to treat aid groups as enemies rather than allies. Since last July, senior U.N. officials have been expelled from Ethiopia. A punishing blockade on the region has also cut off food supplies to five million needy people.
Remembering their names: The aid workers were María Hernández, a 35-year-old Spaniard and conflict veteran; Yohannes Halefom, a 32-year-old Ethiopian medic, found face down in the dirt; and Tedros Gebremariam, 31, their Ethiopian driver.
Context: The brutal slayings, which attracted relatively little attention, were yet another senseless atrocity in a bitter conflict that has been accompanied by reports of massacres, sexual assault, ethnic cleansing and other likely war crimes.
THE LATEST NEWS
Around the World
Credit…
Tang Chhin Sothy/Agence France-Presse — Getty Images
A court convicted 19 members of Cambodia's main opposition party on charges of "incitement" and "conspiracy" in a trial decried by critics as a "witch hunt."

The powerful earthquake off the coast of Japan killed at least three people.

Tit-for-tat strikes represent an alarming escalation in the shadow war between Israel and Iran.
Other Big Stories
Credit…
Darren Hauck for The New York Times
Republican lawmakers like Eric Toney, the district attorney of Fond du Lac County, Wis., above, are promising a crackdown on voter fraud, a crime wave that doesn't exist.

The Bank of England raised interest rates to their prepandemic level in a bid to corral inflation.

In a first, a cardinal testified in his own criminal trial in the Vatican, where he is charged with embezzlement and abuse of office.
What Else Is Happening
One in five rugby players in New Zealand is a woman, and their numbers are rising. But gender stereotypes are proving hard to eliminate.

Some drivers say they find it hard to justify spending hours on the road for Uber or Lyft as fuel costs continue to tick upward.

A recent study in Australia showed that magpies — one of the cleverest avian species — had cooperated to remove trackers placed on them by scientists, a rare example of "altruistic rescue behavior."
A Morning Read
Credit…
Donna Craig-Brown, via Associated Press
It was a 17-pound tuber, found by chance in a New Zealand garden and christened Doug. It looked — and tasted — very much like the world's largest potato. But